Attention all cat owners! Keep your feline friend safe and secure during outdoor adventures with the Kitty Holster Reflective Safety Harness, proudly made in the USA. This high-quality harness is the ultimate solution for providing maximum comfort and protection for your furry companion. Crafted from soft, lightweight material, the snug fit of the Kitty Holster Reflective Safety Vest makes it very difficult for most cats to escape from.

But that's not all! The reflective strip on this harness ensures maximum visibility, making it easy for you to keep an eye on your pet even in low-light conditions. Whether you're taking your cat for a walk around the block or exploring the great outdoors, the Kitty Holster Reflective Safety Harness is the perfect choice for keeping your cat secure and comfortable.

Don't settle for a subpar harness. Order the Kitty Holster Reflective Safety Harness today and give your furry friend the protection and comfort they deserve. Trust us, your cat will thank you for it!
Pairs well with
Kitty Holster Reflective Safety Harness (Made in USA)

$28.95
---
Best Harnesses
I've bought 3 of these harnesses and they are truly excellent. They are super easy to get on and off, allow full mobility for our cats, and are impossible for them to squirm out of. At any price-point you will not find better harnesses than these.
My Girl Loves the Outdoors Now...!!!
Great device it works and my Cat Loves it !!!
She Cries to go outside now every morning it has changed her Life...!!!
The Best for You and your Cat
Our cat is extremely nervous and wary. He is a rescue and is still worried about everything and everyone. He comes to the door when he wants to go out and accepts the hoster easily.
Very secure design. Jax loves to go outside after dark with his jacket on. He hardily approves of its fit!
The BEST Harnesses
These harnesses have been amazing for our cats. We have a pair of siblings, boy and girl. They have completely different body types and proportions. Our boy is a 'long body' muscle man, and the girl is a shorter-lengthed 'pear shape.' Yet, the size M fits each of them securely and comfortably. That's how awesome these harnesses are! I even ordered a second set, for winter, with the reflective strips. They're so good that I'm willing to pay exchange, delivery, and duty (from Canada) just to get these because I cannot find anything as good at home.
Improve the life and health of your kitty - Stimulate your cat's brain and senses to prevent stress-inducing boredom
USA Made, 100% breathable cotton keeps your kitty cool and comfortable
Ultra-lightweight, safe on delicate skin, easy to fasten & no harsh webbing
Endless smiles from people as you walk your kitty around town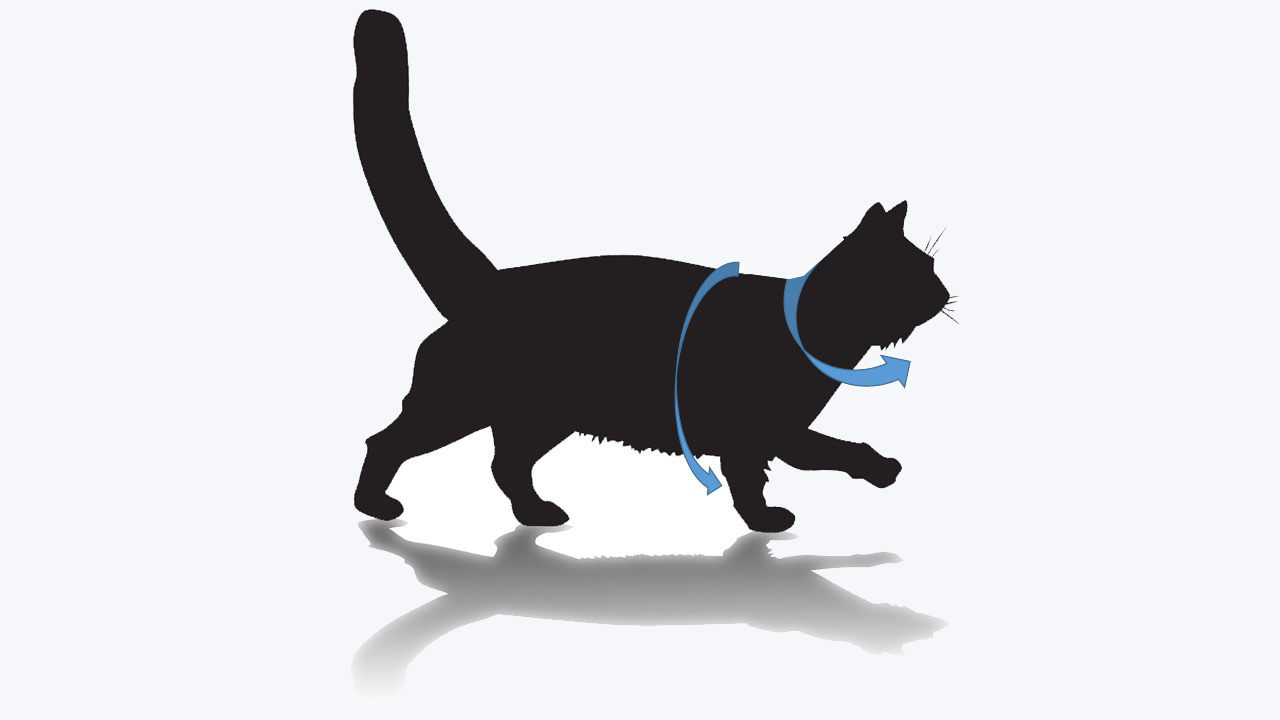 Measuring your cat for the Kitty Holster® cat harness
How To Measure Your Cat For The Kitty Holster®
CBS NEWS - Mo Rocca: Cat Walking
How to Put The Kitty Holster® on Your Cat
Warranty covers only manufacturer defects. Any damage caused by improper use or care of product is the responsibility of the user. Warranty does not include replacement for normal wear and tear. Crazy K Farm Pet and Poultry Products will replace any product that has a defect due to manufacturing.